How does PMSM technology work?
PMSM is an electromagnetic device produced by a permanent magnet as a medium for the conversion of mechanical energy and electromagnetic energy to each other. In addition, the amazingly efficient Permanent Magnet Synchronous brushless direct drive motor on the Mammoth Industrial Series Fan delivers maximum performance when it comes to speed control accuracy, torque, density balance, low noise and greater energy efficiency.
Mammoth Fans also boast a bigger range of varying speed options. Other industrial fans that traditionally have a 7.3m blade diameter will have a speed range of 20-50 RPM. With the PMSM technology and the supreme quality of the Japanese designed controller the Mammoth Industrial Series has broadened the speed range from 5-57 RPM, which enables you to tailor the level of cooling comfort.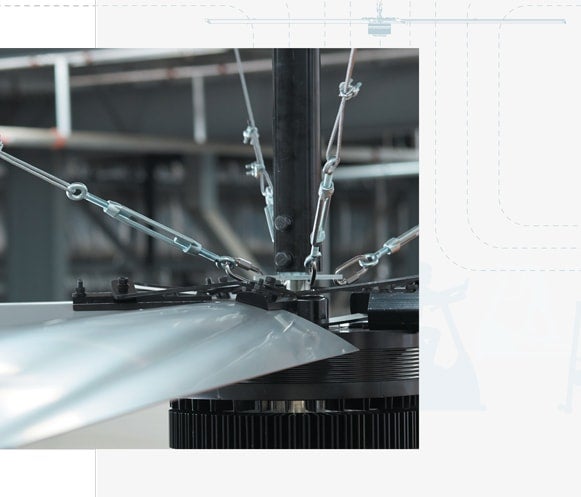 What is HVLS
A HVLS fan is a type of mechanical fan greater than 2.1m in diameter. They move slowly and distribute large amounts of air at low rotational speed, hence the name 'high volume, low speed'. The motor efficiency of other HVLS fans in the market not using PMSM technology is around 78%, whereas Mammoth Industrial Series Fans are able to achieve 86% efficiency. The Mammoth range of fans are classified as SHVLS – Super High Volume, Low Speed. When it comes to ultimate efficiency in fans, it's hard to beat the technology used in the Mammoth Fans.