WORLD CLASS TECHNOLOGY IN
MAMMOTH PROPORTIONS
The Industrial Series from Mammoth Fans are Super High Volume, Low Speed (SHVLS) fans delivering maximum results in a wider range of applications. These fans use world class PMSM technology for larger air volume and a cooler more comfortable space.
---
WIDE RANGE OF APPLICATIONS FOR:
Warehouses
Indoor sports centres
Activity/play centres
Transportation terminals
Commercial sites
Alfresco dining areas
Large format retail stores
---
DESIGN
FEATURES & ELEMENTS

1-8 °C
effective body cooling*
*depending on speed selection

SPEED
1 – 4m/s wind speed regulation

MIXES
excellent air circulation

REDUCES
ideal for dehumidification and reducing dampness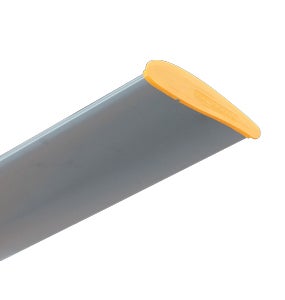 LOW MAINTENANCE
The Mammoth Industrial Series motor does not have a gear box and therefore no significant maintenance is required. Maintaining cooling systems with traditional gear drives can be costly and time consuming. But thanks to the technology of the PMSM, electromagnetic interaction and bearing transmission, plus the advanced air-cooled design of the Mammoth motor, simple maintenance of cleaning the blades and checking all support wires, blade bolts are tightened is all the maintenance required. The Mammoth Fan is virtually maintenance free.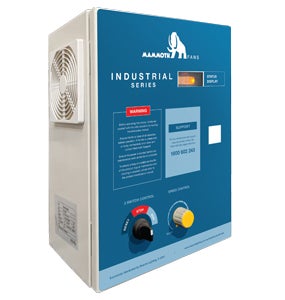 CONTROL BOX
Long lasting, robust, smart and reliable.
With trouble shooting options available from the front panel, access to the internals of the controller are rarely required. From the control box you can clearly see how much power is being used to operate the fan, and also easily control the speed of the fan.
For information on troubleshooting refer to the installation manual.
READY TO ENTER A NEW AGE?
Mammoth Fans has the perfect solution for your project. Our team is here to assist with your query. Call 1800 602 243 or Request a Quote to learn more about Mammoth Fans.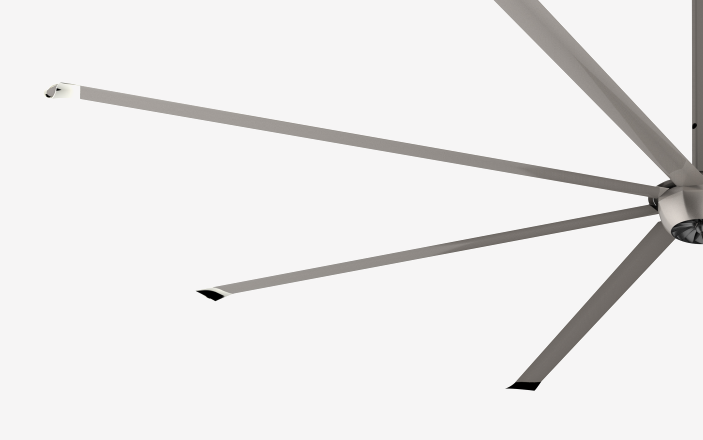 5.5 METRE FAN
WARRANTY
5 years from d.o.p *
* Valid for 5 years from date of purchase
EXTENSION ROD
1000mm, 1500mm, 2000mm optional extra
WIRING CABLE
4 core, 1.5mm, 20m
3 core, 2.5mm, 15m
7.3 METRE FAN
WARRANTY
5 years from d.o.p *
*Valid for 5 years from date of purchase
EXTENSION ROD
1000mm, 2000mm, 2200mm optional extra
WIRING CABLE
4 core, 1.5mm, 20m
3 core, 2.5mm, 15m
GET UP CLOSE AND PERSONAL WITH
MAMMOTH FANS